Graduation: Have you finished school or has school finished you?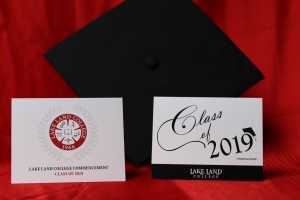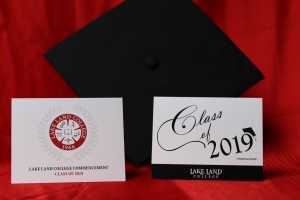 In just a few short months, students will don their gowns, walk the stage, and receive their diplomas from Lake Land College. But in order to participate in commencement, students must make sure to file an intent to graduate form.
After students are cleared and ready to graduate, they must measure for their cap and gown before March 29 in order to participate in the commencement ceremony. Students can order their cap and gown at no cost online on the Laker Hub. There is a short, simple form online where students will list their approximated height, request any special accommodations at the ceremony and enter the number of guests they plan to bring to commencement.
Students will be able to pick up their cap and gown in the college bookstore between 8:00 a.m. and 7:00 p.m. between Monday, May 6, 2019 and Thursday, May 9, 2019 or between the hours of 8:00 a.m. and 5 p.m. on Friday, May 10, 2019.
Lakers will also be able to purchase commencement announcements to send to friends and family in the bookstore or online at the Laker Nest. These announcements are made by the print shop and are available in color and black and white.
There will be commencement practice before the ceremony for students. Practice will be held at 3:00 p.m. on Thursday, May 9, 2019 in the Field House. Lake Land College's commencement ceremony will be held at 7:30 p.m. on Friday, May 10 in the Field House. Overflow seating will also be available in the theatre of the Luther Student Center where the ceremony will be streamed live to attendees. Parking on campus is free and parking in the Northeast and Northwest parking lots is recommended. Graduates should take care to report to their respective buildings before the ceremony at 6:30 p.m. on Friday, May 10.
On the day of the event, a professional photographer will be capturing commencements and all students who participate will receive a free wallet-size color proof in the mail approximately one week after the ceremony. Students will also be able to purchase or view photos if they choose. Lake Land's photographers will also post candids of the ceremony on the Lake Land website. Students will be able to download these photos and print them for free. Additionally,  RTV Club will be selling DVDs of the ceremony for $20. To order, contact station manager Greg Powers at 217-234-5335.
Fresh flowers and gifts will also be available to purchase on location on the day of commencement. If you would like to pre-order a bouquet, please visit thecommencementgroup.com/Lakeland.
Lake Land College will stream graduation live at 7:30 p.m. on May 10, 2019. The event will also be broadcast on WEIU and Mediacom during the week preceding the event. See your local listings for more details.
If there are any questions and concerns regarding the commencement ceremony, commencement practice or student graduation forms, stop by Admissions and Records of the Luther Student Center or call (217) 234- 5377.