Marvel's first lady-lead film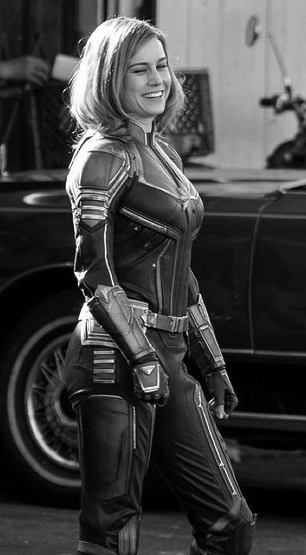 Matthew Harvey, Multimedia Manager
March 31, 2019
Hang on for a minute...we're trying to find some more stories you might like.
With "Captain Marvel," the Marvel Cinematic Universe (MCU) welcomes its first superpowered lady-lead. Brie Larson shines as the titular heroine who seeks to end the intergalactic war between the fictional Kree and Skrull races. This film is the first in the MCU to be directed by filmmaking duo Anna Boden and Ryan Fleck, who are best known for their dramatic work including 2010's "It's Kind of A Funny Story", and most recently, the 2015 critical darling "Mississippi Grind".
"Captain Marvel" begins by introducing Vers (Larson), a soldier in the Kree Starforce under the mentorship of Jude Law's commander Yon-Rogg. Following a failed rescue mission Vers is captured by enemy combatants and is left with one means of survival: an escape pod with a final destination of Planet C-53 A.K.A. Earth circa 1995. There, she goes on the hunt for potential enemies who've crash landed while awaiting assistance from her team.
    On Earth, the film welcomes Samuel Jackson as the first two-eyed version of classic character Nick Fury we've seen in the MCU. It is the first time in the MCU that Jackson is given real room to flex his acting chops as a high-ranking S.H.I.E.L.D. agent soon to be director of the Avengers Initiative. Ben Mendelsohn,  one of the many supporting cast members, makes a stellar MCU debut as he brings comic relief and emotional depth to his role as Talos, the commander of the shape-shifting Skrull forces.
    Perhaps the most impressive breakout performance, though, is Lashana Lynch whose role as Carol Danvers' (Larson again) best friend Maria Rambeau, feels more like a co-starring position than a lesser supporting role. Lynch's Rambeau is witty, fearless, and thoughtful. Her inspiring dialogues with Danvers is what ultimately inspires the hero to confront her enemy and reckon with her past. Lynch is best known outside of "Captain Marvel," for her portrayal of Rosaline Capulet in ABC's short-lived period drama "Still Star-Crossed," producer Shonda Rhimes' imaginative continuation of the saga of the Montagues and Capulets following the deaths of Romeo and Juliet.
    "Captain Marvel" is by no means the best entry in the MCU, but it does deserve its flowers for the outstanding contributions of the actors surrounding Larson, who absolutely delivers, in her leading role. The major issue the film grapples with, however, is that that the way that it is written doesn't lend itself room for any dynamic performance from its main character. This is mainly because the stakes of the film are nullified thanks to the already known outcomes of most significant parties involved. We know Nick Fury exists in the present as an agent of S.H.I.E.L.D. and that Carol Danvers returns as Captain Marvel in the upcoming sequel to "Infinity War", called "Avengers: Endgame". We know that Earth isn't destroyed, and we know the Tesseract is eventually captured by Thanos. These knowns, however, don't completely eliminate the vitality of the film's unexpected twists and revelations— such as the origins of Fury's missing eye— that make the "Captain Marvel" a quality watch.