Lake Land welcomes new VP of Student Services: Beth Gerl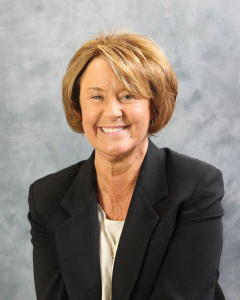 Following a long and competitive search for a new Vice President of Student Services, Lake Land's Board of Trustees came to the unanimous decision last November to choose Beth Gerl for the position. Gerl's official duties began in February with the retirement of Tina Stovall, who had been with Lake Land as a faculty member since 1987.
Gerl is looking to the future of Lake Land with high hopes and brings 13 years of experience as the Vice President of Student Affairs and the Dean of Students at McDaniel College in Westminster. She heard about the position at Lake Land from colleagues who were also in cabinet positions at community colleges.
"I really had an interest in moving away from the four-year liberal arts college, which is predominantly what I've spent my career in. I was very interested in kind of making the bridge to a community college."
Gerl is originally from Southern Illinois, but she's spent the last several years out east."I spent my first 25 years trying to figure out how to flee the state of Illinois and I've had a desire to move back to the area. I miss the Midwest," she joked.
It was a mix of her roots and family that brought about her desire to return.
"It [the job opening] just seemed to kind of line things up, community college, administrator, vice president position, central Illinois, closer to my family and my roots, and that's kind of how I was drawn to it."
Gerl's experience at the four-year level has helped to shed light on some struggles that incoming transfer students from two-year institutions face.
"I've seen students that are transferring from two-year institutions, coming into a four year how there really needs to be a stronger bridge."
Gerl's involvement at Lake Land with the admissions process is something she's been interested in for a while.
"To have the opportunity to be directly involved with the recruitment process, the staff that are going out and selling the institution, it's very exciting to me."
She believes that community colleges are evolving and they are critical for today's students and seeks to aid in furthering Lake Land through the changing world and times.
"There has been an evolution from when I took a couple of classes as a high schooler in the summer, to the evolution of it going from a junior college to the community college."
Community colleges have become a more popular choice in recent years and will likely continue to grow in upcoming years, "Now, institutions like Lake Land are so important for students who want to maximize their dollars, and want to pursue a four-year degree." She also talked about returning non-traditional students, who are seeking retraining or new training in new fields. "That all happens here. I loved my experience at a four-year institution, but I also know that at a two-year college the ability to change and evolve and adapt to what the needs are in the community and in the world, is much less complex to make those changes than what they are at a four-year institution."
Gerl wants to work closely with different student groups, and reach as many demographics as possible to ensure that everyone has the best chance at a great college experience and a high-quality education. She also believes that another important factor for student success is keeping the college up to date in both academics and student engagement opportunities. To answer her questions on how to best engage students she wants to work directly with the students and with student groups.
"This is not about change, me coming in and trying to change things. It's me trying to learn, are we giving you [students] the best while you are here."
Gerl didn't wake up one day and decide she wanted to be a vice president at a college. She cites her own college experience and the effect that faculty at her university had on not only her but also her peers.
"In watching what faculty and staff and administrators could do in a students life, it was very profound for me. They made a difference in my life and I really felt that it would be a really phenomenal place to be."
An openness to learning and new experiences, as well building relationships is something Gerl believes is vital to student success. "Relationships are so much the core of having a great experience in life, and being able to give to yourself and others."
In closing, she talked about how important it is to be in touch with not only the students on campus as individuals but also the surrounding community.
"I need to spend time getting to know my new community," she said.
She looks towards work that Lake Land can do to not only better the school, but also the community .