Athlete of the Month: Scott McGann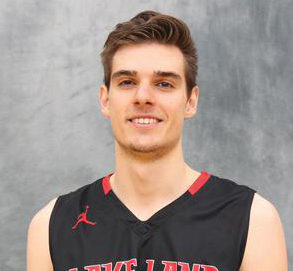 "I like coming to practice every day, being on the road with the guys- being around the coaches- everyone is just really supportive of each other," commented sophomore Scott McGann, a 6'7" stretch forward for Lake Land basketball.
But basketball wasn't of much interest to McGann until he was in high school. "Around tenth grade, I started taking it seriously and I graduated in 2016 and played for another year for a local team and then came over here."
It was McGann's talents and perseverance that led him to Lake Land, all the way from his home in Armidale, Australia. "I had two offers- here and a school in New Jersey but it wasn't a full ride so I took the full ride option. I really didn't know what I was getting into, but it turned out pretty well."
Because of the great distance between his hometown Australia and the United States, McGann initially faced adversity in getting recruited to a team in the states. Most high school players rely on college scouts to view their games and make connections with coaches and players in real time. McGann found a way to bridge the gap by sending out highlight tapes of his games.
"It's not as easy to be found in a different country," McGann said. "It was kind of by word of mouth."
Once he arrived at Lake Land, the energy and effort that McGann showcased early on have been integral to the team throughout the whole season.
As of February 2019, McGann is listed as a top player for Lake Land in the NJCAA conference and was included in the national top 100 for blocks.
Blocking, drives to the basket, and stretching the floor out allows McGann to execute successful moments day in and day out for the Lakers. But he also brings leadership to the table.
"Last year I didn't play a whole lot, so I got to learn. This year I came with more of a leadership role. Especially at the start of the season, helping the younger guys coming in. Letting them know what to expect whether its games, practice, even classes."  
Of course, McGann would not be in the position that he is in today without the wholehearted commitment of fellow team members at Lake Land College. "I like the school atmosphere. All of the athletes support each other and we are all one big family."
McGann also credits the teachers and staff at the college for his success on and off the court.
"Everyone here- the teachers help you out a lot, when we have late games or practices they're lenient on homework. They help us out a lot."
In the future, McGann hopes to be able to transfer to a four-year university and play basketball, proceeding with a major in elementary education.