Lake Land nursing student recognized in Miss Illinois County Fair Queen Pageant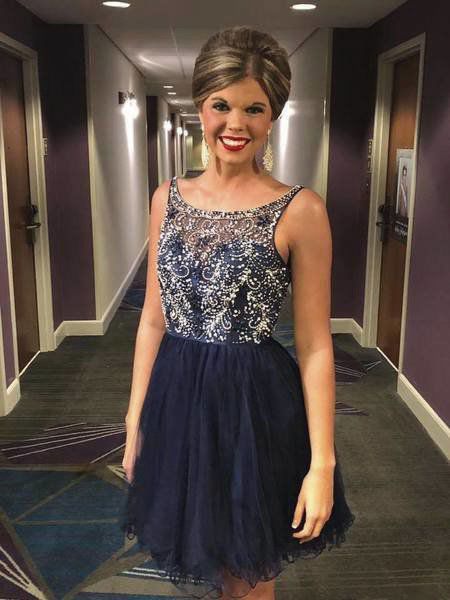 Three Lake Land nursing students competed in the Miss Illinois County fair queen pageant in Springfield on the weekend of January 20th. Shelby Youngblood competed as Miss Coles County Fair Queen, Kaylee Sefton competed as Miss Fayette County Fair Queen, Olivia Telgmann competed as Miss Shelby County Fair Queen and placed in the top 15.
Telgmann, resident of Strasburg, started her pageant career in her hometown as Junior Miss Strasburg in 2012. She went on to become Miss Strasburg in 2015. She loved to be able to represent her town in such a real way. She went on to represent her county as Miss Shelby County in 2018. However, her ultimate goal for pageants was to participate in the Miss Illinois County Fair Queen pageant. After spending the weekend of January 20th in Springfield, Telgmann received the honor of becoming the 1st Miss Shelby County to make it to the "Top 15" in 20 years. When asked about her future plans for pageants Telgmann remarked that "It has always been a dream of mine to be able to walk that stage and getting the opportunity to go there and represent Shelby County and to place in the top 15 was an accomplishment for me. There's nothing that would mean more to me than to represent Shelby County." These pageants were special to Telgmann and aren't experiences that could be replicated in any other pageants. They were a great opportunity to be involved in the community, and there's nothing that could top that.
A main motivation for her was that she would get the opportunity to represent not only the County but also the County Fair and her agriculture background. Telgmann stated that, "Just to be able to represent the fair itself was a privilege." Growing up on a dairy farm, agriculture was and is a huge part of Telgmann's life. She attributes most of her success to her upbringing and even claimed that having that Ag background was a benefit to her when competing in the pageant. She has been able to represent agriculture in the county with almost every activity she's been in. From 4-H, to FFA, to the pageant, her love for agriculture has always been the backbone.
The Shelby County fair itself has a sweet spot in her heart, with it being the county fair that she's shown her animals at for 11 years since being in 4-H. Last year was Telgmann's last year in 4-H showing her Holstein cows, and to top it off she got to wear her crown while she was showing. She's no stranger to success, as a senior in high school she was a member of FFA and won the state FFA dairy judging competition. Her most recent success with her animals is being named Junior Supreme Champion of the Illinois State Fair in 2017. Her agriculture background has shaped her into the person she is today, "I've lived on a dairy farm my whole life so it's a big part of me, it has made value hard work."
Telgmann is currently a nursing student at Lake Land College. Her passion for nursing started when she was a little girl, ever since then she's wanted to pursue nursing. As a Senior in high school she was in the Health Occ Program. The deciding factor for her was when her Grandmother Helen got ill and their family had to call in hospice nurses. She said that "The nurses just really made a connection with her and my family and helped such a challenging time in our lives be a lot easier and it made think that that's truly what God wanted me to do, to be a nurse, specifically be a hospice nurse." It takes a really kind hearted person to be so compassionate and helpful to people in need. Telgmann says that "I really love the nursing program, the instructors are great. It's challenging, but definitely worth it." Telgmann's future plans are to stay around this area and to become a Registered Nurse and possibly a BSN degree. She is currently helping coach the Stewardson-Strasburg dance team alongside her sister, Allision, and she intends stay involved in her community as well as helping out and supporting the Miss Illinois State County Fair Queen Pageant in the future.