Leading students to success: The NSLS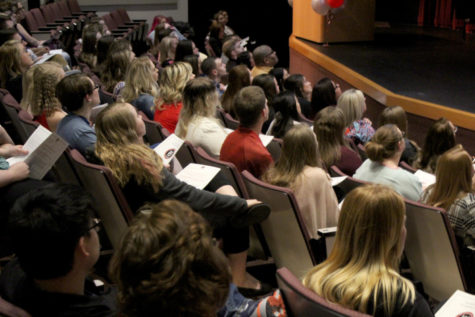 Lake Land College is one of 662 colleges to join the National Society of Leadership and Success, a national organization which has 1,474,062 collegiate members throughout the country. Their goal is to teach leadership qualities and skills to those involved at Lake Land and help students to discover and achieve their goals. Hence their slogan- "Building Leaders Who Make a Better World."
So how does it work? Students must be nominated for an invitation to join this society. All nominees are required to have a 2.75 cumulative GPA with at least 15 completed credits. Students can also be nominated to join NSLS if they hold a leadership position in another club.
After being nominated, nominees must attend a few events before their initiation. To start, they must attend an orientation where they will learn the steps of the leadership program as well as a schedule of the events for the semester. Afterward, students attend Leadership Training day, this is an interactive video session where the student members identify goals and the best approach to overcome obstacles to reach those goals. The interactivity of the seminar helps members identify their strengths and create real, achievable steps towards reaching their goals.
After the two initial meetings, students go to three speaker broadcasts and three success networking team meetings. These can be done any of the scheduled times through the semester or even be done over multiple semesters if the student prefers, which allows the nominee to easily fit them into their schedule.
The speaker broadcasts are live streamed events that are scheduled six times per year and feature various leaders, celebrities and best-selling authors. In the past, NSLS members have been able to see famous names like Al Roker, Kat Cole, and Arianna Huffington on the big screen in the Lake Land theatre. There are a wide variety of topics covered in these broadcasts, including personal growth, leadership, and overcoming challenges. Students can interact with the speakers via Twitter and Facebook during the broadcasts.  
In the success networking team meetings students are assigned to small-groups and meet, usually bi-weekly, to set goals for future success, with the members holding each other accountable to each other's goals. After each meeting, the students submit a reflective journal entry online, providing advisors the opportunity to coach and mentor in a way that actively engages students.
Members are to hold each other accountable to their goals. After these are all finished, the student is inducted, with an official ceremony occurring annually that friends and family often attend. At this ceremony, students are presented with their Certificate of Leadership Training honoring their achievement, are given a cord for graduation, and are lifetime members of the NSLS. Members also enjoy a number of benefits both before and after their induction. Just to name a few: members receive resume enhancements, scholarship opportunities,  and discounts on various retail goods and services.
When asked how he might sum up the key thing that the NSLS does, founder Gary Tuerack shared, "We are dream supporters – we build leaders, support people in achieving their dreams, and better the world in the process. We get people to ask the all-important question, 'What would you do if you knew you couldn't fail?' and then help them to achieve those goals." NSLS is a truly unique opportunity that is greatly beneficial to the life and career of any inspiring student willing to take the experience.