Cardinals Caravan comes to Lake Land
The Laker field house was packed to capacity as the MC for the day and radio voice for the St. Louis Cardinals Emcee: Dan McLaughlin
Current Players: Paul DeJong, Drew Robinson, Ryan Helsley, Justin Williams
Alumni: Ryan Franklin, Kerry Robinson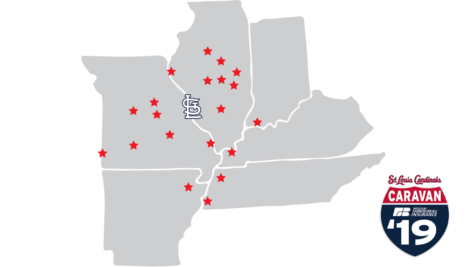 Attendees of the Cardinal's Caravan event heard from Alumni, Kerry Robinson and Ryan Franklin. While there, the two shared stories about playing in the all-star St. Louis game, as well as their thoughts on the return of the baby blue uniforms for the younger players and the history behind them.
Ryan Helsley was the third player to talk about being young, maintaining his health and doing his best during spring training. Following Helsley, superstar Paul Dejong was asked about Paul Goldschmidt, and what Dejong believes he's going to bring to the lineup. "When he comes into the Lineup he will be the best hitter and bring the veteran leadership to the lineup" Said Dejong.
Justin Williams, a Triple-A player, spoke about the first time he filled in for the Cardinals. This was also his first time at bat in a major league baseball game.
Following this, players took questions from the audience. Spectators asked about what it was like to play in the big leagues and their favorite-game hype songs. This open questioning allowed kids to see their heroes and ask them anything that came to their mind from whether or not the athletes played, Fortnite, to questions regarding how Justin Williams cut his hand. He told the eager fan that he likes to tell people its a snake bite but actually punched a TV, and sometimes TV's hit back. Williams opened up about his experiences of being bullied as a child. He told them that it was important to always have someone in your corner and just keep on moving. Following the question and answer panel, the kids were allowed to get photos and autographs with the players.