Something for Everyone at Lake Land Cosmetology
Need a haircut? Some color? Or even just a nice spa day with the girls? Located in the West Building is Lake Land's Cosmetology School – one of Lake Land's best assets. They offer a wide variety services to students and community members for deep discounts and all the services are done by students-in-training, under the supervision of licensed professionals. The atmosphere is always lively filled with young inspiring students who want to help you look your best.
If you are interested in a career in Cosmetology, it allows creativity, provides flexible work hours and a good income. Also a degree in cosmetology allows you to consider options to work as a stylist, nail technicians, or estheticians. According to Lake Land's Cosmetology website, "Cosmetology was rated among the "Top 50 Hottest Jobs," in Money Magazine."
The highlights of a career as a stylist include flexible hours, multiple job opportunities, potential to own your own business, and even work from your home with proper licensing
Students receive classroom and practical training under the guidance of Lake Land College licensed cosmetology instructors. The Cosmetology program and the Teacher Certificate program meet Illinois Department of Professional Regulation Standards for receiving your license.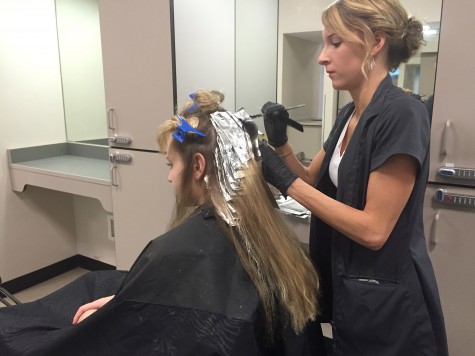 If you are interested in learning this skill or maybe want to  have some work done, some of the available services and prices are as follows:
Hair Cuts:  Female Hair Cut (shampoo included) $8.00, Female Hair Cut/Shampoo/Style $12.00, Shampoo & Style (no haircut) $8.00, Male Haircut $5.00 , Deep Conditioner $8.00, Scalp Treatment $10.00
Senior Services (Age 60 & above):  Senior Hair Cut (shampoo included) $5.00, Senior Shampoo & Style $5.00, Sr. Haircut/Shampoo/Style $8.00, Senior Perm $17.00
Hair Color or Lightening w/Style: Hair Color Application $20.00, Multi-Dimensional (2 or more colors) $30.00, Tipping (males) $10.00, Hair Color Remover $20.00 per application
Highlight Services:  On-Scalp Bleach & Tone $40.00, Re-touch On-Scalp Bleach $20.00, Creative Color (top panel) —purple, green, red, pink & blue $15.00, for each extra bowl of color or lightener used $5.00/ea
Perms (include cut & style):  Basic Perm: Above shoulders $20.00
Specialty Wraps: Weave, Piggyback & Spirals $40.00, Relaxers/Straighteners $20.00
Skin Care:  Basic Facial: Dermalogica Products $13.00, Make-up Application $5.00
Waxing & Tweezing: Eyebrows $5.00, Chin $5.00, Lip $5.00
Manicures: Basic Manicure $10.00, Hot Oil Manicure $12.00, Shellac Manicure
Pedicures: Basic Pedicure (No massage or foot masque) $20.00, Spa Pedicure (including massage, masque & steam towels) $23.00, Peach Pedicure(including massage, foot paraffin & hot towels) $25.00, Polish change $4.00, **Any nail fungus and/or nail disease is a contraindication to manicure & pedicure services.