'Fantastic Beasts: The Crimes of Grindelwald' captures nostalgia of original Potter films
"Fantastic Beasts: The Crimes of Grindelwald" premiered on November 16th. This is the second movie in the new series of Fantastic Beasts movies written by none other than the talented writer J.K. Rowling who wrote the beloved Harry Potter Series. Fantastic Beasts is set in the same universe and serves as a prequel to the Harry Potter movies. However, instead of following Harry Potter, our new hero goes by the name of Newt Scamander. In contrast to the first movie of the series, "Fantastic Beasts and Where to Find Them," "The Crimes of Grindelwald" dives into more of the history of our characters. The first film served to introduce our characters and the context of the series while second movie focused more on character development as well as answering some unanswered questions.
"Fantastic Beasts and Where to Find Them" was critically acclaimed and received much praise from the media, it has also taken home many awards, including the Academy Award for Best Costume Design. "The Crimes of Grindelwald" definitely lived up to the standard that the first movie as well as the franchise put in place. The movie itself was beautifully filmed and included intricate and well designed costumes similar to the first movie. I have no doubt that the sequel will be the recipient of many awards.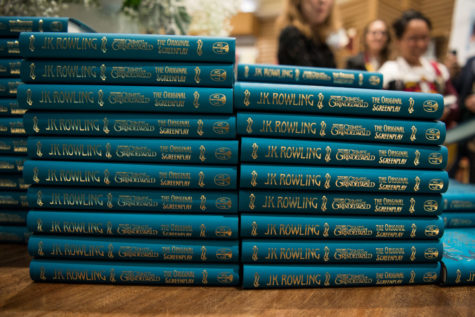 Watching this movie brings back all of the nostalgia from the Harry Potter films. Many references and characters that appear in this film are well-known within the Wizarding World franchise. There is much cross over in the themes of the Harry Potter series and the Fantastic Beasts series. It is helpful to be knowledgeable about the Wizarding World and characters in the Harry Potter series. This information will help the audience to fully understand all of the references as they relate to both of the series. With the same tension expected from the franchise, this movie left me on the edge of my seat the entire time, my brain was overwhelmed with the amount of depth the movie added to the characters as well as heartfelt moments to keep the  audience wanting more. I left the theater with my expectations exceeded.
The third Fantastic Beasts movie is set to be released in 2020. There are many questions still left unanswered from the first two movies as well as some major cliff hangers from "The Crimes of Grindelwald" that I hope get uncovered within the new film to come. With five movies total scheduled for the Fantastic Beasts series, I hope that the movies can keep the good reviews and continue to exceed the expectations of the loyal Wizarding World franchise fans.