Dr. Stovall retires after 25 years of service to students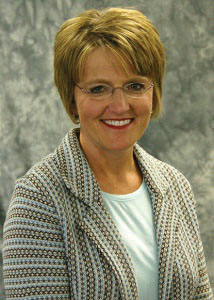 Tina Stovall, has been off and on as a faculty member at Lake Land since 1987 and will be retiring at the end of the 2018 fall semester.
Her college education started here following high school. "I wasn't really sure I wanted to go to college" she said, she started off in a hospital training program to work as an x-ray technician, however while in this program she found it didn't quite click as well as she had originally hoped. Her older brother had gone to Lake Land and loved it, so she followed in his footsteps.
What started as a one year certificate program turned into a two year degree, and then a plan to transfer on for her bachelor's and eventually master's at Eastern Illinois University, as well as a doctorate from the University of Illinois. "It [Lake Land] generated a great love for college as a student."
She returned to Lake Land as a counselor and director of counseling from 1987 up until 2006 when she transferred to Moraine Valley Community College, which is located in Northern Illinois.
"I had worked in a pretty small piece of the universe and when I was working on my doctorate at the University of Illinois I met people from all around the world. At that time I became interested in living and working in at least someplace different from right here at home."
As the vice president of Student Services Dr. Stovall oversees a large part of the college including: admissions, records, graduation, counseling and career services, international studies, support for students with disabilities, Trio, tutoring and testing, intramural and collegiate sports, as well as all of student life.
"I always summarize it as 'all of the fun things that students do at college."
Along with this extensive list Dr. Stovall has always been on the lookout for ideas and opportunities that can benefit students. This fall she worked alongside Sharon Uphoff, Lake Land's nurse, to start a food pantry.
In the past she's worked with Student Government for an improved fitness center as well as a disc golf course,"We are always looking for good ideas that come from students or staff who see a need."
When it comes to Lake Land she's most proud of "our commitment to students and the intentional effort to really listen to the student perspective and seek to provide what students in community are looking for… Our job is to make sure in our district we make college possible for everyone."
The things she will miss most following her retirement are the students. "I love the absolute energy and brilliance of our student population. They energize me, and just make me want to be a better person."
Following her retirement she would like to still be involved with the college. She has a desire to help and assist students when they need it, and to keep them on the path of academic and career achievements.
"My hope would be that when opportunities arise and there is a need for people in the community to share ideas or labor or look for volunteers that I could help with those kinds of things." She hopes to join the ranks of alumni and former college employees who are still very involved in supporting the college and working towards student success.
To her successor she offers these words "Just get out there and get to know the students, get to know the community. Seek to appreciate all the good our district brings to our campus, all those who come to work here, all those who come to study here. Just listen closely when a good idea comes forth, ask 'why not?' versus 'why?' and always focus on what we can do rather what we can't."