Treat Yo Self: Massage therapy offers services before finals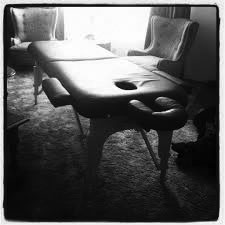 Lake Land College offers a variety of higher education programs. Included in these programs is the Massage therapy program. This physically demanding area of work has several requirements that individuals must possess that are not classroom related. According to the Massage Therapy description on Lake Land's website, "students need to have good general health and the strength, stamina, and flexibility necessary to carry out assignments." As for the classes, Lake Land offers a very specific set of classes that are mapped out and start every fall and continue for four consecutive semesters. Massage techniques and bodywork, anatomy, professionalism with clients, and business practices are classes that are included within the curriculum.
For this program, classes are held at the Lake Land College Kluthe Center in Effingham, Illinois, but as a special treat for students on December 5th, Student Activity Board will be hosting massage therapists in a massage clinic at Lake Land's Mattoon Campus in Laker Point. This event will be behind the stage in the auditorium of the student center on Lake Land's campus. Head and shoulder massages are open to all Lake Land students by appointment.
As for students interested in being admitted into the program, July 1st is the deadline for applications to be submitted for consideration into the message program. Also, candidates must have these requirements fulfilled, admission to Lake Land College, completion of the Massage Therapy program application form, and completion of the college placement assessment tests. For more information or an intent to enroll application, students can search on the Lake Land College website under Massage Therapy in the academic catalog. To schedule an appointment at the massage clinic, students can contact the student life office.