Volleyball athlete of the month: Kristy Burford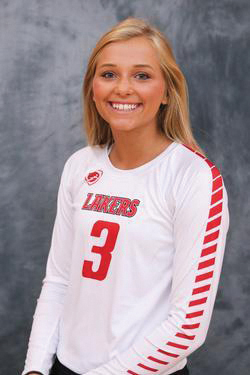 For the last two seasons, Kristy Burford has made her mark as a true team player both on the and off the court. Burford has been a right side/outside hitter for the last two seasons with lady laker volleyball and has become especially skilled and specialized at the spot.
Originally from Bethany, Ill., the athlete began her volleyball career in middle school as a sixth grader and the sport has stuck with her ever since. Burford played all throughout high school and graduated from Okaw Valley High School. After graduation, she accepted a spot with the Lake Land volleyball program and has excelled ever since.
After her transition from high school to college, Burford was quickly recognized by the coaching staff at Lake Land for her leadership qualities.
"Kristy has been a leader from the moment she stepped onto Lake Land College's campus as a freshman. Her leadership, smile, poise, willingness to bring the best out of any moment are contagious characteristics." head coach Ashli Wicker said. "She has been a two-year co-captain for reasons that do not go unnoticed all across the entire athletic department and campus."
Burford has had no shortage of achievements in her short time at Lake Land. Last spring, the athlete was honored with the Great Rivers Athletic Conference Sportsmanship Award and even boasts one of the best records in the National Junior College Athletic Association with 132 this season.
Though she has achieved much, she has had to work hard for her spot on the team.
"Every practice can be an obstacle because you're constantly trying to make yourself better and become the player you've always wanted to be. However, I love knowing each day I have something to work on that can make my team and I better," Burford said.
The athlete loves promoting positivity and bringing a smile to her teammates' faces before their games.
"The family atmosphere that we have here is incredible. I have made so many lifelong friendships and have learned so much which make me extremely thankful."
As for Burford's future plans, she hopes to continue her volleyball career at a four-year university and obtain her bachelor's degree in Marketing.