Students petition for Chick-fil-A at Lake Land College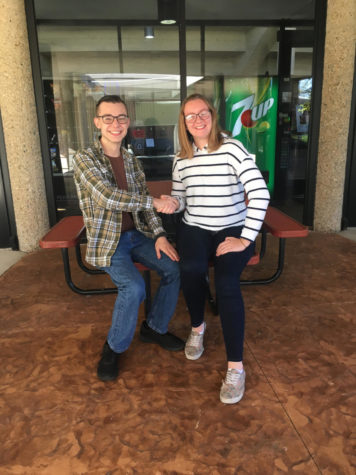 Chick-fil-A is an establishment that is known and loved by many. With their chicken, milkshakes, fries and sauces, the restaurant has made customers happy for years. Not to mention their famous customer service. Each employee is always happy to serve customers with a friendly smile.
Adored by many, Chick-fil-A has taken over the hearts and stomachs of people all over the country. The chain has become increasingly popular on college campuses. In fact, there is a Chick-fil-A just a town over! It is in Charleston, Illinois on the Eastern Illinois University campus in the college food court.
So why doesn't Lake Land College have a Chick-fil-A to call its own? Students have begun to ask that same question. Students Katy Stokes and Blayne Bayles took matters into their own hands in order to show just how important this matter is to them.
"We live in Charleston, so we go to the Chick-fil-A at EIU every now and then, but it's annoying because we have to go on EIU's campus so it's a hassle. So when we came here we were like: 'Why don't they just have a Chick-fil-A here?'" Stokes argued.
Stokes and Bayles decided to be a voice for all of the fellow lovers of Chick-fil-A by starting a petition for Chick-fil-A to come to Lake Land College. Word spread around and many students began to get on board with the idea. A whole page was filled with names of students that supported the cause.
So why would Chick-fil-A be a good addition to Lake Land College?
"It would open more variety for food choices and bring in more money for the college," Stokes said. "Right now we just have a Subway with a handful of workers. It would open more jobs for students and would be more accessible so that they wouldn't have to go as far off from campus to get a job or different food options."
To add to that statement Bayles said: "On Lake Land Boulevard there are already three Subways and it's kind of exhausting, it's not a big selection."
So far, the petition only has about fifty signatures. The petitioners hope to present their case to the Lake Land Student Government Association in the near future.