Criminal justice instructor runs for sheriff in 2018 general election
Dustin Heuerman, a faculty member at Lake Land Community College is currently running for Champaign County Sheriff. Heuerman has been with Lake Land since 2009 and teaches criminal justice courses here on campus. He is also involved as a club advisor in both the Criminal Justice club and PRIDE club.
He is running on a platform that emphasizes diversity, equality, and respect. "I believe that everyone needs a voice in the criminal justice system."
Heuerman also hopes to propagate more diversity in Champaign County. His goal, if he becomes sheriff, is to make sure that the system there is diverse in the way that it represents Champaign county.
"We can only serve our communities to the extent that we have a criminal justice system that is also representative of that community."
His emphasis on respect stems from learning about how different power dynamics affect the way guards treat inmates, as well as the way the Stanford prison experiment showed this.
"I am an advocate that we need to t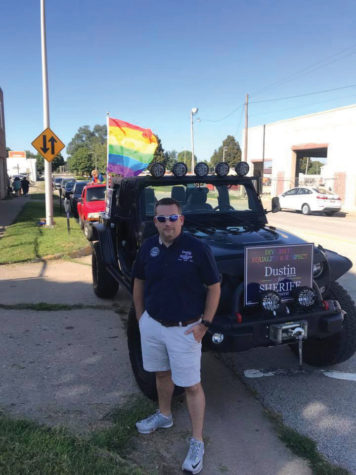 reat [prisoners] with as much respect as you're treating us," he said.
Before becoming a Lake Land instructor, Heuerman worked full time as a deputy sheriff in Champaign County.
"It has not necessarily been an aspiration of mine to run for sheriff whenever a position came open," he said.
Since no one was running as a Democrat, Heuerman wanted to ensure that voters at least had options.
"I spoke with my husband about it and we decided that my training and education all leads
me to [being someone] who would make a great sheriff."
Although Lake Land would be sad to lose Heuerman as a full-time faculty member, he has the desire to make the changes necessary to reform the criminal justice system into a more rehabilitative effort, rather than it acting a solely reactionary force.
If Heuerman were appointed sheriff he would want to make some reforms like, "for those who aren't [violent offenders], to provide them with resources."
He wants to limit repeat offenses by individuals through education, drug treatment and providing resources to help them better themselves. He also believes that mental illness needs to be properly addressed.
Currently, when dealing with someone who is mentally ill in the criminal justice system, they are either taken to a jail or to an emergency room.
"We need to partner with mental health facilities in the community in order to have alternatives to incarceration".
Heuerman will be on the 2018 ballot for the November general election. As a proud member of the LGBT community, the Lake Land instructor would even make Champaign County history in being the first LGBT sheriff and would bring positive changes and fresh ideas to the office.