Ross Lynch, the man behind the mask
Laker Louie is one of the most iconic faces on campus here at Lake Land college. The current actor is retiring after two and half years of donning the well known costume, inspiring many young kids to look at the bright future that they have ahead of them. From Basketball, and Volleyball games to Welcome day and Movie Nights, Louie has been there, giving hugs, dancing, taking pictures, and putting a smile on everyone's face. The man behind the mask is the loving, caring, outgoing, and entertaining Ross Lynch. Lynch says that he has loved being an inspiration to others and has enjoyed his time here seeing kids smile and loves when people approached him to ask if they could have a quick picture. Although the man behind the ask may be retiring, Laker Louie lives on.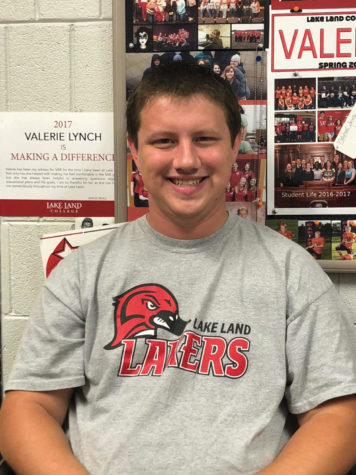 Ross Lynch says that his love for mascots started as a kid, when he saw commercials with Mickey Mouse on TV and they made him laugh. Lynch began to pursue a costumed career in hopes that he could inspire someone and be a good role model for them. He quickly figured out that this would be the perfect choice for him because he got to be aroundd kids and adults that all adored him. He also added that "You're the school mascot, who wouldn't want that?" Lynch says that he has loved the environment he was always put in to entertain, he says "to me it was never about the extra money I made, it was always about the smiling faces, and the good memories".
"I don't mind passing it on, I just hope that the next person who takes it, puts effort in it and finds true joy in it like I did." Ross said that the best part about becoming a Laker was having a job that he could enjoy and that he had the ability to make someone's day a little better. He wants his successor to impact the lives of other people the way he tried to. He also wants someone who puts a lot of focus into making themselves the best Louie they can be.
Lynch plans on making a future out of what he has done so far, he is pursuing a degree in recreational activity, this will allow him to have a better stance at becoming a professional mascot in the NBA, MLB, or NFL. His dream is to become a professional mascot, but if he can't he said he would still love a job as a university mascot. The next step in his life is what he calls a great opportunity, and this is being a paid intern at corporate Disney, during his time there he will be a watercraft operator. While working there full-time he will also be taking classes, so he can continue his academic progress.
As Lynch looks back on it, he states that his best memory is that of when he arrived at a kid's movie night on Lake Land's campus and one of the little ones would not let Louie leave his sight, he wanted to hug him, talk to him, and hangout with him all night. Lynch says that this is what being a mascot is all about, the smiles that he can put on kids' faces and the adoration that kids and other people show him make all the sweat and stuffiness of the suit worth it.