Ed Sheeran plays Busch Stadium
British singer Ed Sheeran put on quite a show at his Busch Stadium concert on September 6th. On Sheeran's "Divide" world tour, Anne-Marie and Snow Patrol are the opening acts. Sheeran and Snow Patrol have come full circle as Sheeran was on the road with them on their spring tour in 2012. Now, Sheeran has invited Snow Patrol to be the opening act for him on his 2018 tour.
This is Sheeran's comeback tour following his year-long hiatus. He may have taken a break, but he definitely is still just as talented and was able to pick up where he left off. He performed a variety of songs from his new album as well as favorites such as "The A-Team", "Sing" and "Tenerife Sea" from previous albums. Sheeran puts on a mesmerizing performance complete with lights, graphics and his own talent. One unique thing about his shows is that he is a one-man band. All of the sounds of the night came from Sheeran's microphone and his guitar. He used a device called a "loop station" that he controlled with his feet. He looped his voice and a guitar for each song to create the effect of having a full band. In addition, he did a few ma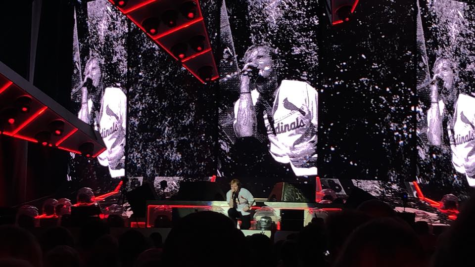 shups of some favorite songs including a "Don't" / "New Man" and a "Feeling Good" / "I See Fire" mashup. For his encore songs, he came out wearing a St. Louis Cardinals jersey to represent his venue for the night, Busch Stadium. I think I can speak for the whole crowd when I say that Sheeran put on a great show,  it was such a pleasure to be able to witness his unique performance.