Great hearts think alike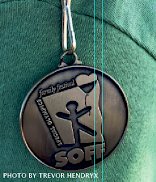 When Special Olympians and local citizens get together there is an endless amount of fun, memories, and laughter. This year was the 50th anniversary of Special Olympics Family Festival, otherwise known as SOFF. This an event where special Olympians get paired up with local volunteers who are "friends for the day" of the Olympian. Friends come from Lake Land, Eastern Illinois University, or from their local town to participate in the event. The day is full of non-competitive games that the Olympian and the friend for a day can partake in.
SOFF is an event designed to help the Olympians get to meet other Olympians or anyone else there. While on campus, one of the leaders stated that there are three days Olympians most look forward to: the first being their birthday, the second being Christmas and the third being the family festival. This statement can help to shed light on just how much of an impact someone can have on an Olympian's day.
As a special friend for the day, I got to see this firsthand. My Olympian was a man of few words, but when I asked him what he wanted to do that day he told me, "have fun, play games, and eat popcorn." After that, I knew I was in for a good day.
All of the Olympians and their friends spent the day dancing, playing games and riding a horse wagon. Throughout the day, not a friend or an Olympian could be found without a smile on their face.