Renovations temporarily displace faculty, but promise change
As construction continues on campus, students may notice the addition of new buildings, as well as the displacement of several key facilities. There's a new building in place of the childcare lab. This is set to become the site for several administrative offices that are currently housed in the Luther Student Center. The current plan is to also move Board of Trustee Meetings out of Webb Hall and into the newly renovated building.
Students should be on the lookout for the eventual move of TriO, as well as the financial aid offices out of Webb, and into a newly renovated student center. Lakers can also anticipate the eventual relocation of the on-campus Police Department and Bookstore. As changes are made, displacement of some offices is guaranteed. For example, during the summer semester, the Student Life offices could only be reached by going through student services due to the main lobby of the Luther Student Center being closed for construction.
Another event displacement is that of on-campus Health Services. Previously, Sharon Uphoff, the campus nurse, had been located next to the student admissions offices in the Luther Student Center. However, her office currently resides in the West Building, in Ag conference room 072. As the on-campus nurse, Uphoff takes on a variety of roles.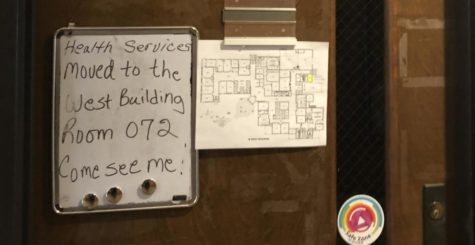 "I respond to any kind of emergency. And I assist students if they're looking for a doctor."
She also handles student health insurance and makes sure that our college athletes have their physicals taken care of. In addition, Uphoff assists with allied health services on campus.
"My office has over-the-counter-medicine and band-aids for your boo-boos," She joked.
Following the completed renovations, Uphoff will be returning to the main campus.
"I'll be kind of next to Subway when it's all said and done."
There will be renovations to both Student Life and Student Services. Construction is estimated to take about a year, and the general faculty consensus is that things should be in place and completed by the 2019-2020 semester.