Book of the Month: Left to Tell
Rwanda genocide survivor finds peace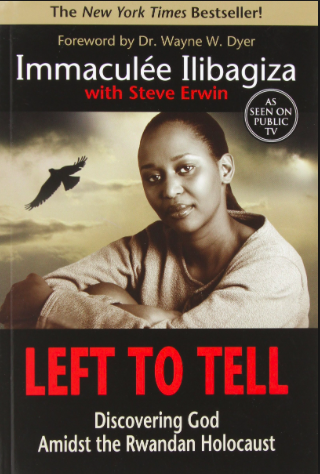 Left to Tell is Immaculée Ilibagiza's memoir about her ordeal surviving the Rwandan Genocide. The book was published in 2006, twelve years after the 1994 genocide that claimed one million lives in only 100 days.
In the first third of the memoir, Immaculée describes her life up until the genocide. As a Tutsi woman, tensions with the Hutu ethnic group, the majority, were present throughout her life, but rarely made her feel unsafe. Growing up in Rwanda, her life was fairly ordinary and she had many Hutu family members, friends, classmates, and neighbors. As the youngest of three bothers, Immaculée worked hard to keep up with them and studied even harder to get on their level. Immaculée details her life in elementary, high school, and eventually university.
But it is when she is home for Easter from university that the genocide begins very suddenly and her world comes crashing down in a matter of days. During the genocide, she spent her time hiding in the bathroom of a local church. In this tiny bathroom, she and seven other women survived 91 days of horror. Every day the women feared for their discovery in the bathroom and prayed that they would not be killed or raped if they were to be found. During this time, Immaculée connected with God prayed for hours every day to retain her sanity, taught herself English words and phrases from two books and a dictionary, and more importantly, learned to forgive those killing around her, many of which were people she had known all her life.
Eventually, the women leave for a safe French camp, but Immaculée learns that her almost her entire family has been killed. In recounting her experiences in this memoir, readers can be inspired by Immaculée as she learns to cope with the loss of her friends and family, forgive their killers, and rebuild her life after the tragedy in Rwanda, finding God along the way.