February 2018 Music Radar
From Manson to MISSIO, concerts live up to hype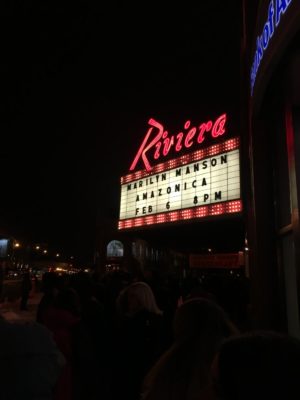 Shock rocker Marilyn Manson has been aweing and disturbing fans since the '89, and his experience in showmanship was plain to see on the stage. I halfway expected Manson to stumble around burning Bibles and mumbling, but Chicago was treated to a very lucid, well-executed show. I'm still sort of disappointed I didn't see any burnt Bibles, but I digress. The band played their classic hits, like 'mOBSCENE' and 'The Beautiful People,' along with their well-known Eurythmics cover of 'Sweet Dreams' and of course, some notable new songs, such as 'Say10.'
In my eyes, this performance clearly drew the line between up-and-coming bands and trained musical performers. Marilyn Manson is approaching 50, but one wouldn't notice a change in his voice or creative vision. From bizarre wardrobe changes, clever use of projection in the stage design, mic drops after nearly every song (okay, the mic drops got a little old), and provocative moments where Manson's voice carried his songs through the silence, this concert was nothing short of impressive. The moment that really touched my heart was when the band played their lesser-known song, 'The Nobodies,' which happens to be my favorite. In the final chorus, the instruments went quiet, leaving the crowd to ride out the raw emotion in Manson's voice until the inevitable mic drop.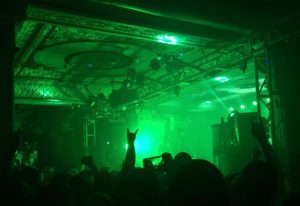 I had no idea what to expect walking into an Avatar show. Avatar is a theatrical, circus-themed metal band whose discography spans the furthest vocal reaches and the entire expanse of the metal genre. Their openers were as unexpected as the band's ever-evolving style. I'd assumed that their first opener, the Hellzapoppin Circus, was another circus-themed band. Boy, was I wrong. Avatar brought an entire circus side show, with Guinness Book record holders and Ripley's Believe It or Not stars, on tour with them. If that wasn't weird enough, the other opening band, The Brains, was a heavy band with a stand-up bass, which resulted in a 50's swing meets Anti-Flag meets mosh pit vibe. I was digging it.
Then things got even weirder. Instead of hype playlist like one would expect between acts, Avatar had "The King's Radio," a fabricated, in-universe radio station that fit into their latest album's storyline about praising The King. The band's live performance lived up to the theatricality of their hype track and online presence, and I felt fully immersed in the kingdom as lead singer Johannes Eckerström, a demented ringleader, sang songs glorifying their guitarist, who acted as The King. The band's endurance is what impressed me the most. They played for two full hours, the singer running off stage to hydrate and, he later admitted, to keep from passing out. Eckerström's vocals left me to pick up my jaw off the floor more than once throughout the night. The singer's voice would peak in Steven Tyler-esque high notes, then drop to low growls that could put Cannibal Corpse to shame, and he could hit every note in between, whether singing or screaming. A vocalist that versatile is a rare treasure, and I doubt I'll ever see an artist so talented again.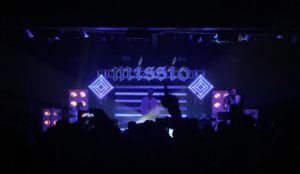 Alternative rock techno band  MISSIO wowed Chicago with a bass-heavy, hard-hitting light show. The band came out as dramatically as possible, with vocalist Matthew Brue robed in white reminding me somehow of a white hip-hop Jesus.
From intense hype-up songs like "KDV" and their new unreleased song "Temple Priest," to emotional confessions of depression and addiction  in songs like "Everybody Gets High" and "Kamikaze," the band brought it on every front. Accompanied by gorgeous light displays and nonstop energy from both Brue and instrumentalist David Butler, the show was an easy attention grabber. The two used this attention well to deliver their message of hope to those in dark places, especially those who've struggled with addiction.
Beyond having heart and amazing stage presence, the band is also very obviously talented. There aren't words to describe the richness of Brue's voice or the genuine emotion behind the lyrics. My personal favorite part of the night was the band's cover of Lana Del Rey's "West Coast," which they hadn't been playing live before this tour.  As lyrically and musically beautiful as their own songs are, it was even more amazing to see how they could recreate another artist's song in their own way.
Another crowd favorite moment was when the band's biggest song "Middle Fingers" came on. The whole crowd had their fingers up to everything in society that told them they were wrong or invalid, and that's kinda beautiful. MISSIO won my heart last time I saw them, and thrilled me all over again this time. They've made the list of band's I'll see every time they come to town… Speaking of, I'm super excited to see them again when they come to St. Louis.