Athlete of the Month: Koty Crowder
Basketball player grows with team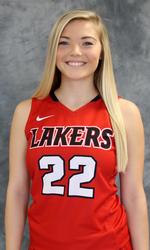 "It is exciting to put on a Lake Land jersey because of the culture and success that Lake Land has achieved over the years," commented sophomore Koty Crowder, point and shooting guard of the women's basketball team.
Interestingly enough, in the beginning, basketball wasn't a first passion of Crowder's. "Growing up, all of my friends played basketball." Ultimately, what her friends were playing influenced Crowder, eventually finding an appeal in the sport, and "working harder and loving basketball more" in Charleston.
Crowder's talents and performance at Charleston High School led her here to Lake Land, where she immediately dazzled Head Coach David Johnson.
"I thought she was a really good player coming out of high school," said Johnson. "She's a person who plays with a lot of energy and a lot of effort."
The "energy" and "effort" Crowder showcased to her coach early on has turned out have been integral to the 2017-2018 season. As of January 2018, Crowder is listed to be a top player in the NJCAA conference, being in the top 50 in 3 pointers scored, and the top 100 in points overall.
Categorized as "one our best defenders" by Coach Johnson, her defense, chief ball handling, and long-range shooting allows Crowder to execute game-winning moments day in and day out.
Crowder noted that what she is most proud of this season was her game tying layup to continue the match. In the same match, Crowder broke a record of her own, scoring 31 points in total.
Because basketball is one of the many team sports, Crowder and her teammates rejoiced when they defeated the Kankakee's women's squad by a difference of two points near the game's end. The "adversity" and grappling games have been the most favorable team moments in the season for Crowder. Coach Johnson is hopeful, and believes that the learning curve the season has taught will, "push toward the postseason."
Of course, Crowder would not be in the position that she is in today without the wholehearted commitment from family and friends alike.
"My friends and family attend most of the home games and some of the away games," Crowder said. "But, my boyfriend doesn't miss any games."
Crowder said that, regardless of expectations, she's grown as a player with the Lakers.
"Going into it, I didn't know what to expect. But looking back on my time as a Lady Laker I have grown as a player and a person."
As a sophomore, Crowder will likely transfer to Eastern Illinois University in the fall, proceeding with a major in early childhood education.