Phi Theta Kappa
Community college honors society offers more than just Greek Life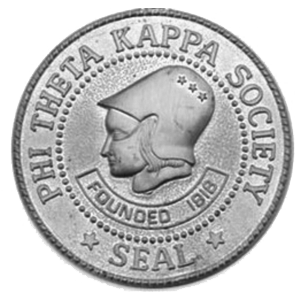 Wait, Lake Land College offers Greek Life? Well, sort of! Phi Theta Kappa is an honorary society for students throughout the United States that focuses on scholarship, leadership, service to the community and fellowship within the organization. Lake Land's PTK chapter focuses not only on the requirements of the college but of the national organization. The club works to meet the national standards by maintaining a constitution, attending regional conferences, and growing academically.
Students must be invited to join PTK. Invitations are sent out based on the following criteria: one must be enrolled in an associate degree program, have completed twelve semester hours of coursework, and be able to maintain at least a 3.25 GPA. Members pay a $65 fee to join for the semester and can then take part in bi-monthly meetings, various service projects, activities and fundraisers. For every hour that members are active in the club, they earn a chance that is entered in a drawing for a scholarship at the end of the spring semester. PTK tries to focus mainly on fellowship within the club by having member discussion and collaborative goal setting for philanthropic projects and events.
Members are also given the option to become officers for Phi Theta Kappa at the end of the spring semester. Faith Boerngen, a nursing student and current secretary of PTK, said being an officer has helped her grow.
"PTK provides an opportunity to grow leadership skills and become involved with campus events along with community events," Boerngen said.
Officers meet with their faculty advisor to plan involvement in club projects, give insight about the logistics of participating in community events and help stimulate participation in the club. Fellow PTK public relations officer, Hannah Dillow agreed.
"I have a passion for volunteer work, so Phi Theta Kappa was a perfect fit for me," Dillow said. "I've gained valuable experience in event planning, marketing, and confident leadership."
Phi Theta Kappa not only focuses on its work locally but also looks to gain national recognition. PTK is nationally rated on a five-star scale and Lake Land earned one star this semester. The club is attempting to get as high of a star rating as they can this year by completing national PTK goals to rise in rank.
Krista Burrell, Faculty Advisor to the Honors Experience at Lake Land hopes help guide the students involved in the chapter to even higher national standards.
"It can take years to reach a five-star rating and is a rigorous process that requires a dedicated team to make all of our goals happen," Burrell said.
Burrell and Phi Theta Kappa officers attended a regional conference this semester which gave them ideas and strategies on how to complete Lake Land's chapter goals.
Two of the biggest goals that the organization has for next spring are the college project and the honors in action project. PTK members plan on instituting a college project by visiting local high schools to share their experiences and recruit students to the club, focusing especially on students involved in National Honor Society. In January, the club hopes to work on their honors in action project. The club will select one of seven global issues that the national Phi Theta Kappa organization has published. With the topic chosen, the club will explore the topic and write a research paper as well as create an action plan for targeting the issue in the community.
Burrell admitted that these goals were no easy task for the group, but is very happy with the club's level of commitment to bettering the community.
"It is a big undertaking," Burrell said. "We are always strengthening our numbers and strengthening participation so that we will reach the national goals that we have for ourselves."