Ambrose finds home on volleyball team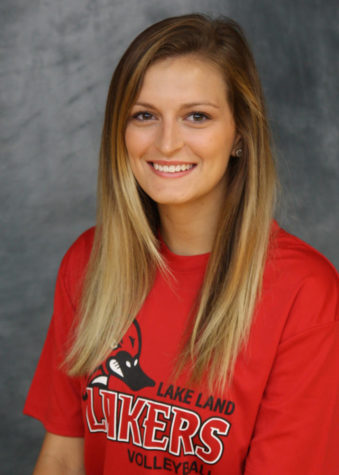 For the last two seasons, Ryann Ambrose has stood out as a true team player both on the court statistically and off the court as a supportive and positive teammate. Ambrose has been a starting middle hitter for the last two seasons with the Lady Lakers and has become especially skilled and specialized at the spot.
Originally from Shelbyville, Ill., Ambrose played volleyball in middle school and the sport has stuck with her ever since. She has found that the biggest obstacle she had to overcome in her volleyball career has been transitioning from the high school level to the college level. However, she has found a home in a great volleyball program at Lake Land College.
"I love having the opportunity to represent the college," Ambrose said.
Not only a star player on the court, she credits her teammates as being the aspect of what she loves the most about being an athlete at Lake Land College.
"I love being close to home and being able to play my favorite sport with some of my best friends," Ambrose said. "I feel like I bring laughter, positivity, and diversity to the team."
Her upbeat attitude has not only affected her teammates for the better, but has also been recognized by the coaching staff.
"Ryann brings laughter and joy to all of her entire team," head coach Ashli Robison said. "She possesses a natural talent that cannot be taught. Her charismatic charm and positive attitude will take her far in life."
As for Ambrose's future plans, she hopes to continue her volleyball career at a four-year university and study Political Science.