Step back in time at the Fountain on Locust
The Fountain on Locust in St. Louis is serving up food and ice cream to customers in a store that gives customers the feeling that they might have just stepped into the Great Gatsby. The walls are adorned with an art deco style murals, with a blue background and paintings of dancers. They serve old-fashioned ice cream and phosphate sodas, along with adult beverages including an ice cream martini.
All of their ice cream comes from a family farm based out of Wisconsin. Apart from that, all toppings are made by hand in their kitchen, from the caramel and hot fudge sauce to their candied orange peels.  The ice cream didn't taste like the ice cream you'd get anywhere else, it was richer. Their espresso bean ice cream even had chocolate covered coffee beans spread generously throughout it.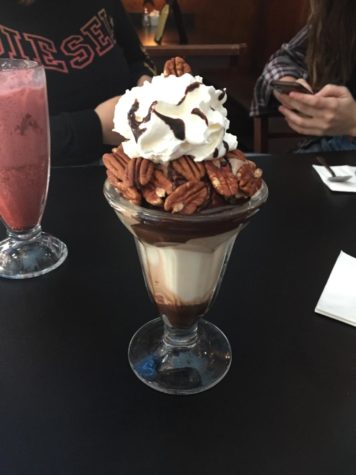 What really set the standard was the vanilla ice cream. Everyone has likely had a scoop of vanilla ice cream one time or another and while the base flavor was still the same vanilla you'd get anywhere it had much more, the texture was softer, and the flavor was much more bold and pronounced.
They have a World's Smallest Sundae for those looking for a smaller portion or cheaper option. For those with dietary restrictions, they also offer a dairy-free option, the Raspberry Zing, in the form of a raspberry sorbet with a berry sauce. Aside from ice cream, the Fountain has a wide range of Made by the Glass Sodas that are free of both high fructose and corn syrup.