Podesta Park is under construction
Alumni fund park to honor veterans, Podesta family
There's been a buzz of construction on the southwest corner of campus. Podesta Park, a memorial to Lake Land's veteran alumni and the Podesta family.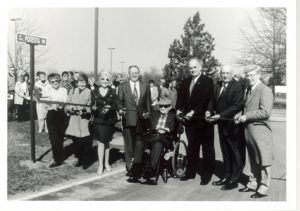 William and Margaret Podesta promoted Lake Land's founding, and William even established the dental hygiene program, too. The college was built on land previously owned by the Podestas. Both served in World War II, which is why Podesta Park will also be dedicated to veterans.
The park was funded entirely by donations and will feature not only a memorial, but walking trails, too.
Podesta Park is located between Alumni Park and the pond.
William's contributions to the college were also recognized in 1999 with the naming of Podesta Drive.