Athlete of the Month: Haylee Short
Softball recruit proves abilities on field
Haylee Short, a recruit last year to the Lady Lakers softball team, stepped up to the plate to help fill the gaps in the positions of right field and center field.
"She really stands out on the team because of her story. She actually graduated high school early to come and play with us," said Head Coach Nic Nelson.
Because of the great reviews of the campus and the impressive winning record of the team, Haylee made the move from Hillsboro, M0., to condition with the Lakers for the spring. Because she came to the team in January of 2017, the player said she suffered slight adversity in the move from high school to a college in a new state.
"It was hard because no one really likes it at first when a new player 'steps in' to take a spot on the team, but eventually I proved myself on the field," Short said.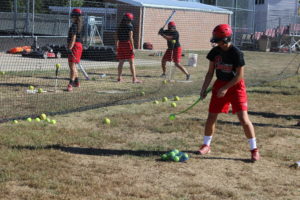 With hard work and dedication, she even became an All-American athlete last year and has hopes to become a first team All-American this season. Short has not only proven a fantastic athlete on the field but further in the role of being a hardworking and compassionate teammate.
"Being a team player is about helping the other girls with homework, giving them family advice, encouraging them when working out almost daily, and helping them when they felt homesick," Short said.
The sophomore says she is unsure of where she would like to transfer in the future. But, she hopes to continue involvement in the sport and said she may switch her career focus to coaching softball.