Drake inspires learning
John Deere instructor still invested in final year of teaching
Hidden behind shining tractors and intimidating equipment in the Agricultural Tech building is an unremarkable classroom, much like many others on campus. In this unremarkable room is Allen Drake, a John Deere technology instructor with a remarkable predilection for preparing his students for careers in the John Deere field.
"I am passionate about making certain that my students understand what we're talking about in class, making certain that they're finding out how to teach themselves as technology changes," Drake said.
With the rapid changes and advancements in John Deere technology, students can't be expected to know everything about the machines they'll work on, but they must learn to learn.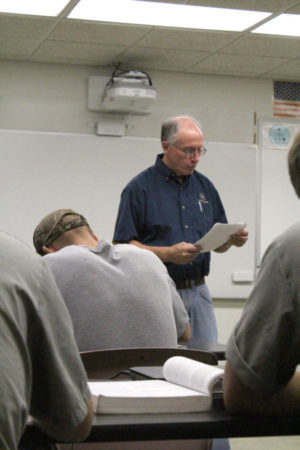 "The world is changing so fast, all we can do is show them how to learn," Drake said. "We can't even begin to teach them a small percent of a machine, but we can teach them where to find the information."
His devotion to the program hasn't gone unnoticed.
"Allen is a knowledgeable instructor who cares deeply about preparing students for their career," Ryan Orrick, agriculture division chair, said. "He cares deeply for his students and the success of the John Deere program."
Drake was first drawn to technology by a desire to understand machinery.
"I've always had an interest in how things work, as far back as junior high. I've always liked working with my hands," Drake said.
Drake had 19 years of experience as a service technician before being recruited to teach a night class at Lake Land.
"They asked me to teach a night class while I was still working. I did the night class and enjoyed it. I thought that was really fun," Drake said.
Drake said he enjoys working with the students, because each of them has something good to offer.
"You can find something good in all of the students. Some of them, you have to look a little harder."
After teaching and enjoying more night classes, Drake made Lake Land his full-time job.
"Twenty-five years later, I'm still here," Drake said. "This is the 26th, and this is my last year."
Drake said that he's looking forward to spending more time with his family, and having more time to explore the world.
"We camp, we travel. It's relaxing. Instead of coming home on Sunday from a camping trip, we could leave on Sunday," Drake said.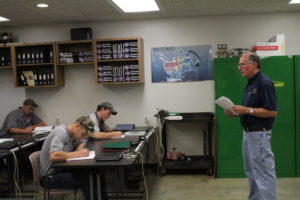 Despite his approaching freedom, Drake is still grateful to be at Lake Land.
"I drive in and see the sign and think 'I'm lucky to be here,'" Drake said. "I think that every day. Not many people get to do this."
He encourages students to also think about and appreciate the opportunities they have at Lake Land.
"You should feel that way about being a student," Drake said. "Think of all the people who don't get that opportunity."