Summer Projects: Parking lots repaved, wind turbine removed
Students might have noticed a shadow missing near the West Building here on campus. No, Jack did not come and mistake one of the Wind Turbines for a giant bean stalk. It was all a part of planned construction and major upgrades that took place all around the campus.
You might have at one time heard a story or two about the Wind Turbines, some probably unflattering. According to Bryan Gleckler, Vice President of Business Services, there was more to those stories than what might have been told. Bryan explained that it was simply more cost effective to go ahead and tear down one of the metal giants, than simply keeping it around.
The missing Wind Turbine, was struck by lightning in 2015, and had not been functioning up to standard since that happened. Instead of making Lake Land's financial liability smaller, the constant maintenance, sourcing, and at times even scavenging of parts, were only adding to the financial strain. To avoid any further unnecessary bills accruing in the future, the College decided to proceed with taking the turbine down.
There still stands a single Wind Turbine for training and education purposes of the students in the Renewable Energy program. It is important to note that this project was also very cost-efficient as well.
The project was originally being budgeted around $32 thousand and came at a cost of almost half of that, a total of $17 thousand dollars, Gleckler said. This wasn't Lake Land's only step into renewable energy, though.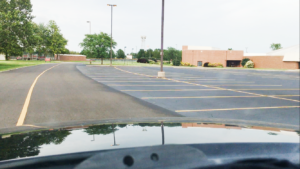 Gleckler said that the success of past solar and geothermal projects has led to further enhancements within the West Building. A replacement of what is called Variable Air Volume Boxes was conducted. This replaces the need for electric reheating coils and relies on Geothermal technology to be more effective. This will not only reduce Lake Land's power use by 598,000 kw/h, but will also save the college around 70,000 dollars or more per year, Gleckler said.
Energy efficiency was not the only thing improved at Lake Land through construction this summer. Repaving, resealing, and filling of potholes on roadways and parking lots around campus has gone on as well. The repaving came in at a total cost of $79, 178, while the resealing had a total cost around $76 thousand.
Gleckler said that the college is hopeful that lot and road maintenance will happen on a regular basis in the future.
Aside from those major projects, some minor projects happened around the campus, too. Luther Student Center might look renewed this semester, after some new tuck pointing and brickwork were completed on the building.
The best news of all, according to Gleckler, is that none of the total cost of construction will be passed to the students at Lake Land, because the college paid off a previous bond last year, so the new construction bond will essentially take its place.