Goodbye, Graduates!
Can you believe it is almost that time? Graduation is just around the corner. Although our time at Lake Land is short lived, many peoples' lives are touched by the experiences had and memories made here. As we begin to take that next step in our lives, we will take the skills that we have learned here with us wherever it is that we are going next.
Many students that are graduating are traveling far and wide to take the next step in their lives at the transfer institution of their choice, while others will be using the skills that they have acquired here at Lake Land and will be using those skills in the workforce directly after graduation. No matter what your next course of action, Lake Land has influenced us all!
Carley Travis is a sophomore in the agricultural transfer program and will be graduating in May. When asked why she chose Lake Land as her first step to academic success, Travis said, "I felt at home here, and fell in love with the agriculture program. I knew it was the right fit for me!"
Throughout our time here, students have become very accustomed to the atmosphere surrounding their academic studies. That sense of warmth, compassion and eagerness to succeed is one that resonates from the entire institution all the way from the faculty and staff to the President and his cabinet.
"It is because of the courses, teachers and relationships that I have formed here at Lake Land that are allowing me to be so comfortable with this transition," Travis said.
All of this positivity surrounds the students and urges them toward success.
Charles Osley is a freshman by age, but a sophomore by credits. He will be graduating after the summer semester and is transferring to The Ohio State University. Osley feels "very" prepared for the university experience after his time at Lake Land College.
"I feel as though the teachers were able to teach me better here than if I were at a bigger university for my first year," Osley said. "I probably would have just gotten lost among the numbers, and would have skipped class a lot more. Because the teachers know me personally, they are going to encourage me to come to class."
The students have a plethora of activities to get involved in while enjoying their time here at Lake Land. Kelly Keitel, a sophomore also graduating in May said that her greatest experiences from Lake Land were those involving her participation in the Student Activity Board.
"My favorite part about Student Activity Board is meeting the new people that join. We all have such a good time throwing our events," Keitel said.
Osley and Travis also fondly remember the friendships made in physics class and working as a student ambassador respectively.
Relationships are built through our experiences here, but sometimes it may take us longer to get involved and meet new people than we would hope. If these graduates could give their freshman self some advice, they all said they'd encourage involvement.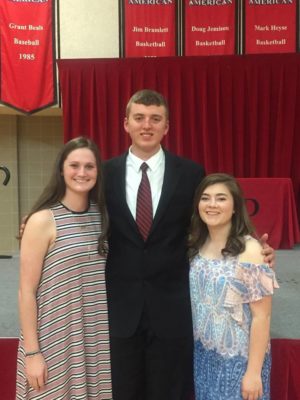 "I would say, "live it up!" Travis said. "Being involved was the best thing that I could have done for myself. I would tell myself not to hold back, because this is a great place to donate your time!"
Keitel emphasized trying new things.
"Go and meet new people, to go out of your bubble, and to join clubs!" Keitel said.
Getting involved isn't just fun and games, though. Osley said it makes the adjustment easier.
"Be more open to things, stay on campus, and enjoy the college experience," Osley said. "It makes things a lot easier."
Not only are graduates excited for this time of year, the faculty and staff are excited for us too!
Lisa Shumard-Shelton is the Director of New Student Admissions at the college. She is also the Student Ambassador advisor. She said that her personal and professional life are influenced by the students every day.
"Yes, I always say that I learn from something from each student, each year. I cannot express enough how much I enjoy being around the students; it has changed me personally and my professional life as well," Shumard-Shelton said.
Shumard-Shelton said that Lake Land, as a community, hopes that students had the best experience possible.
"Congratulations to all the graduates! We always say that here at Lake Land, we are all a big family and the students make up a big part of that family and we are here because of the students," Shumard-Shelton said. "We do everything we can here at Lake Land to make sure that their experience is the best that it can be. We are so proud of all of you at graduation time!"
Graduation is a very bitter sweet time for all of us, as we are making the transition from Lake Land to the next step in our lives. Shumard-Shelton said her advice to graduates would be to follow their dreams.
"I find myself telling them not to limit themselves to anything. They are at the point in their life that they can do anything that they want," Shumard-Shelton said. "They have their whole life in front of them, so they should always continue to follow their dreams."
My time here at Lake Land has been unforgettable, and I will and cherish it forever. I wish all that are graduating a very big congratulations, and good luck in your future!