Teaching: an unexpected journey
Tornow shares her path to teaching
It's no surprise that not all teachers started out wanting to teach. But, some learn to love their careers as teachers.
Claire Tornow, chemistry instructor at Lake Land College, started down a few different paths before settling in here at LLC.
"My first idea was I wanted to do pre-medicine. I wanted to be a doctor. What type of doctor, I don't know, but I had to pick a major and that's what clicked," Tornow said. "So, I started off pre-med, and then I ended up switching to just a biochemistry focus, and then I actually did undergraduate research."
Undergraduate research was a turning point for Tornow, as her adviser convinced her to pursue straight chemistry.
"I graduated with my bachelors in chemistry and went straight on to graduate school for chemistry," Tornow said. "Luckily, I had about five and a half years to think about what I wanted to do with chemistry."
Tornow initially wanted a job in a research lab, but her peers encouraged her to pursue teaching. Still, she had her doubts.
"I originally lacked the confidence I thought you needed to be able to instruct people on an entire subject, but the more than people said that [I would be a good instructor], the more I actually gave it some considerable thought. Like wow, maybe I shouldn't completely close the door on that."
After completing graduate school at University of Illinois Champaign-Urbana, Tornow said she applied "everywhere," still uncertain of what she wanted to be when she grew up. Lake Land was one of the few places with job openings for chemists.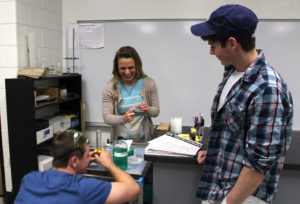 "Lake Land found me first. That's how I found out that I really do actually have a passion for teaching," Tornow said.
But, teaching isn't always easy–Tornow said the hardest part is teaching Lake Land's diverse student body.
"We have students returning to school after 20 years, we have students fresh out of high school," Tornow said. "Trying to meet everyone's needs is still a challenge."
This challenge isn't without reward.
"I think that's kind of what keeps me going, what keeps me excited to see 'Can I do it? Can I teach that person that doesn't know how to use their calculator versus the person who has the $200 calculator and is a math whiz?'"
Tornow's efforts haven't gone unnoticed. Laura Hardiek, a nontraditional student at LLC, said that compassion is one of Tornow's greatest strengths.
"She cares, and she interacts well," Hardiek said. "She knows her stuff, but she's able to relate to students, too."
Even as an adviser, Tornow makes her students' happiness a priority. She said she stresses the importance of focusing on a career path, not just a major.
"In college, they ask you to pick a major, and that is a great piece to guide you through your educational path. That's only the next four years," Tornow said. "Make sure you understand what type of job you're going to get with that degree. Pull up a job posting that appeals to you, that would make you happy, that makes you want to get out of bed every morning, and then cater your educational goals to that."
Balancing learning styles isn't the only motivational part of teaching for Tornow, though. She especially treasures the connections she's made with past students.
"I haven't been here that long, but I still have students from three years ago that will truly take time out of their own schedule to come into my office and just sit and talk for an hour, to tell me about how their life is going, [ask] how I'm doing–they're truly interested," Tornow said. "I think [the biggest reward] is having those students I made a real connection with."