The Farewell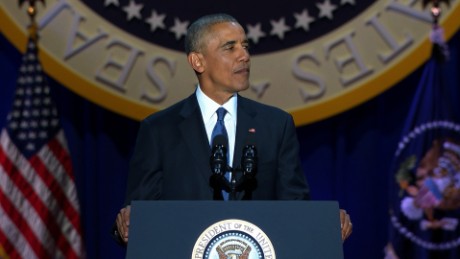 In 2008, the United States of America elected its first black president. In 2012, Barak Obama was re-elected to run our country.
In the past eight years, President Obama and his wife, Michelle, have become loved, well-respected political figures in our country. Michelle, an intelligent and poised woman, set high standards as an influential first-lady. The level of respect he achieved can be seen as a huge step forward from when he was first elected.
President Obama was a senator for our home state of Illinois, and on Jan. 10, 2017, this state is where he gave his final address to our nation.
This speech addressed serious issues Americans are facing today. He discussed the many accomplishments the country has seen over the years, but warned of the toxicity that has been spreading in the past year.
He explained that many of us have blamed our political leaders for what has become of the country, when we should be taking a look at ourselves for why we elected these people in the first place.
Beautifully worded, President Obama's speech painted a picture of what the past eight years have brought us and what the next four could shatter. With grace and kindness, he talked about how dividing Americans is a dangerous action. With that said, he claimed to support President Donald Trump, while subtly negating some of the new president's policies.
Sadness enveloped his supporters like a thick veil. As the cliche goes, you don't know what you had until it's gone. This statement rings true in this case. Although many Americans don't agree with the way Obama ran the county, most can admit he was a good man who truly loved his country.
With President Trump coming into office, bringing his reputation of hate, discrimination and bigotry, the nation is divided into two main groups: those who love him and those who loathe him.
Only time will tell what the future has in store for us. Trump will be inaugurated into office January 20, 2017.