Where are we safe?
Election results bring attention to inclusion of LGBTQ+ students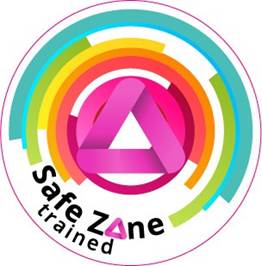 With the violent rhetoric of an ended, though not "settled" election season, there are those in our communities who are scared and looking for a safe space. Incidentally, Lake Land College offers a very inclusive campus and even specially designated Safe Zones which aim to address this concern. Safe Zones as set up by the Inclusion & Diversity Education Task Force are not as much about a place, but rather people. Specifically, they involve faculty and staff who have opted to go through a training to "provide information and work toward the elimination of myths, misconceptions, and stereotypes," according to the inclusion and diversity section of the Lake Land website.
Sarah Hill, our Information Services Librarian, said that the training takes about two hours and includes a discussion of the purpose and mission of the training. Then, they move into a Coming Out discussion where members of the B-GLADD group discuss their experiences. If students are not available they have a video made by the students to fall back on, next they discuss a handout about LGBTQ+ terminology to remove misunderstandings. Finally, they have a discussion about myths and facts of being LGBTQ+, including legal issues, and think about their own attitude towards LGBTQ+ people and issues. Once complete, participants can choose to sign a Statement of Intent that notes their agreement to serve as a Safe Zone ally, then a manual is emailed to them with contact information of local resources, and a sticker as seen here for display.
As a designated Safe Zone, Sarah has new opportunities to talk with students about issues of gay marriage and participation in a drag contest. While these are simple steps, they make a huge difference in the college's ability to provide a comfortable and inviting place for students learn and grow.
After the recent election, social work major Frances Hebron from Farina feels it is good to know there are people on campus who are able to talk with during these trying times.  Frances is agender, which means not identifying as either male or female and useing gender-neutral pronouns. While Hebron is familiar with the Safe Zones while at Lake Land, ze said there has been no reason to utilize one.
"I have not experienced any sort of micro-aggressions from anyone at Lake Land, fortunately," Hebron said.
Unfortunately, at a previous institution the problem became so uncomfortable Hebron had to drop a class and eventually leave the college itself.
Recently, there have been protests across the country against the result of our presidential election, while not a condemnation of the process, they are more protests of fear with potential civil rights restrictions based on the president-elect's demeanor and outright hateful comments. Even Eastern Illinois University has been embroiled in several protests. These protests are an attempt to portray to their fellow peers that they are welcome and that they have an inclusive campus. Meanwhile, some may say that Lake Land is not a large enough campus to spark these type of protests. Others say that inclusion is business as usual here. No matter what your political affiliation, sex or gender you are a Laker and loved by this campus.