See no evil, hear no evil, speak no evil
Consequences of the party life made apparent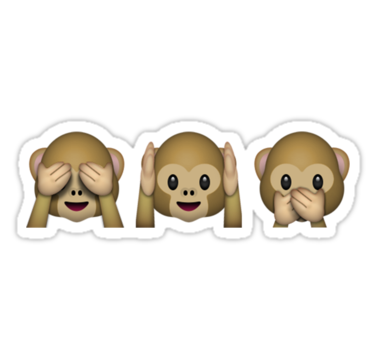 Most of the women in my family had children while they were still figuring out who they were. They were all young mothers and still had a very social life. The party didn't stop even to be a role model for their children.
Nowadays it is not the "social norm" to be a 27-year-old female without child. Perhaps I don't have children because my own childhood was unstable. Everyone, myself included, wants to be able to give their children more stability and a better life than they had growing up.
My mother had me when she was 18 years old and my father wasn't in the picture. Most of the time, it was just me and her. Four years later, my mother got married and had two more children. When her husband lost his battle with HIV, she coped with his loss by partying, drinking and going clubbing with her friends. Environments such as mine force children to grow and mature at a much faster rate than most.  According to drinkaware.co.uk, in an article titled "Be a Role Model for Your Children," research shows that "from a young age children learn about acceptable behavior by observing and copying their parents."
Little did my mother know that her children would learn to cope with their problems the same way later in life. Alcohol was they only answer and many times it only made things worse.
It may not seem like a big deal to continue the party lifestyle if you have a child, but I have seen this proven wrong plenty of times. Its like a domino effect that just keeps going on and on through the generations.
Many women in my family have all been the "life of the party," while their children have to pay the consequences. A young child may not understand why they are getting pawned of with grandma every weekend while mom is out instead of staying home and spending time with them.
When you party while you have children, you lose out on valuable time that you will never get back, and one day you may regret it like many mothers I have known.