Living Creature or Object?
Animal rights overruled for human convenience, entertainment
Derby Roan, Section and Copy Editor
October 1, 2016
Since humans showed up, we have used animals for food, shelter, and tools. Personally, I believe that animals are here to be used. But, that doesn't mean that they should be abused. Sadly, the mistreatment of animals is common today, and is seen in zoos, the meat industry, and even in household pets. I believe that the root of the problem comes down to the objectification of animals.
The meat industry is something that most people are happy to turn a blind eye to, partially for its brutality, but also because of how unavoidable it is. The meat we buy at the grocery store likely comes from a corporation built on efficiency. But, the efficient treatment for animals isn't necessarily the kind treatment. Cattle and poultry are treated as units. The more units that can be fit in a facility, the better. The defective units are disposed of, while the remainder are quickly utilized. This translates to crowded, unclean living environments and violent deaths for the animals that constitute our diets. The only ways to avoid funding this cruelty is to buy local, which can be more expensive, or to completely remove animal products from our diets.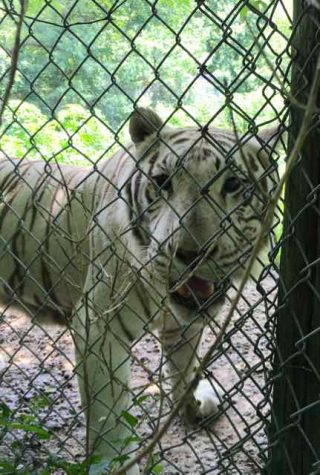 Zoos, on the other hand, turn animals into displays. The animals' well-being is set aside for the entertainment of visitors, and ultimately, for the financial gain of the zoo. While zoos do offer an educational opportunity for kids to see exotic animals, I don't like the way they're run. My problem is with zoos is the fact that they host breeding programs, which create "surplus" animals. Surplus animals are the animals that serve no breeding purpose and aren't drawing customers. These animals can be sold to other zoos, but there is some doubt that they always end up in ethical organizations. The other option is euthanasia. Despite the surplus animals, most zoos have not terminated their breeding programs, because baby animals draw customers. Sadly, the babies we ooh and aww over grow up to have no place in the zoo and be sent away or killed. An alternative to visiting the zoo is visiting an animal rehabilitation center. These organizations are dedicated to taking care of animals that are unable to return to the wild due to injuries or human interaction.
Finally, our own pets are objectified. It's easy to forget that puppies at the shelter are living things that have likes and dislikes, wants and needs, just like we do. And it's so, so easy to say "I want that," forgetting that we're taking on the responsibility of caring for a living thing. It's important to also consider what's best for the animal, not just what sounds good to us. How many animals have been adopted and returned to shelters, or neglected, or abandoned, because owners didn't consider the responsibility they were taking on? How many times do we purposely stress our our animals to laugh at them? I recently saw a Buzzfeed video of cats on leashes that almost made me sick, because these animals were being tormented just for human entertainment.
There are countless examples of animal mistreatment; I could go on forever. But, the bottom line is that we need to start treating these living things like objects. They don't owe us anything, not entertainment, love, or food; they were never ours to own or control, only to use, and to use respectfully.